Asirpa's cooking in Golden Kamuy is definitely a level beyond what I typically accomplish in the kitchen. It's the ultimate farm-to-food cooking: She hunts, she kills, she eats. Not only that, but she eats well. If Sugimoto's reactions are anything to go by, it's clear that Aspira can cook some pretty darn good food. 
I've been dying to try some of the meals from Golden Kamuy, but there are two main problems: 1) Fresh food/game meat availability (I don't live in a place where it's easy to get squirrel brains and bear meat!) and 2) Ainu cooking recipes. As the show highlights, the Ainu people have a beautiful culture of their own, including recipes specific to their communities. Unfortunately, it's impossible to find recipes of Ainu cooking online. 
How to solve these problems? Well, I did actually have some game meat stored in the freezer from earlier this year. A friend from Alaska sent me some venison for a Food Wars! recipe, and I didn't use all of it, so I set it aside in my freezer. When I saw Asirpa make the Yuk Ohaw, I knew it would be the perfect opportunity to use up the venison I had. Easy enough! I was surprised at how perfectly that worked out.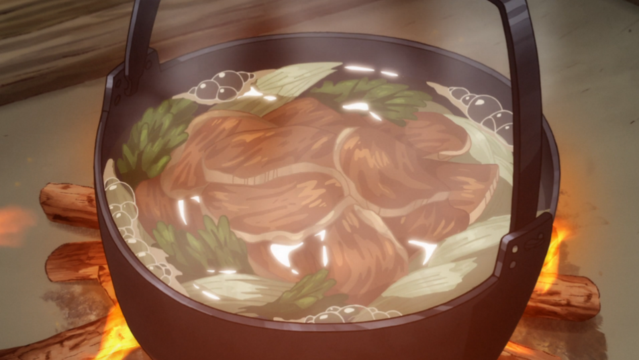 The recipe was the more challenging issue. The last thing I want is to make a version of yuk ohaw and claim that it is authentic. Because I couldn't find a recipe online and there is no clear recipe laid out in the episode, I think of my recipe as an approximation of an Ainu Ohaw only. It's certainly not the real thing – just an attempt I was able to piece together with some information about Ainu Ohaws and how they're made.
From the information I was able to gather, I believe "Yuk" means venison and "Ohaw" means stew. So, this is a basic stew that Aspira and Sugimoto share, made with venison Asirpa killed earlier. According to my reserach, Ainu Ohaw stews are made with kelp and fish broth. This sounds like a pretty typical dashi stock to me, so I used that as my base. I then salted the stock to give it a bit more depth, and added in leeks, mustard greens, and venison because, after careful examination, that is what seems to be in the soup pot in the episode. 
Leeks lend a nice mellow flavor to the pot, and the mustard greens help to hold onto the liquid as you eat and provide an earthy layer. The venison is, well, venison. It's slightly gamey, but contrasts nicely with the simplicity of the broth. Whether or not this recipe is similar to what Asirpa actually made, it's pretty tasty – I can tell you that!
Of course, if you want to take this stew up a notch, you'll have to add in miso like Sugimoto does. This will essentially create miso soup as the base, but one that is incredibly rich and delicious thanks to the added boost of the leek and mustard greens. I was really surprised at how yummy this recipe turned out! I definitely thought it would be too bland for me, but was happy to find that I absolutely loved it (and scarfed it down as fast as possible).
Keep in mind, these are the results of my personal research! If any readers have a resources for an authentic Ainu recipe (for this or any other dish) please leave a comment below!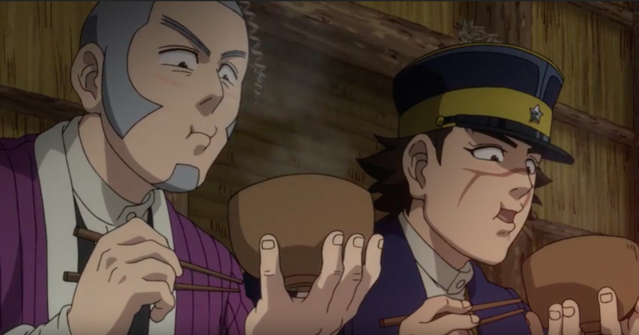 I hope you can try this recipe! Watch the video below for more step-by-step tips.